Leica DISTO D330
Related information & links
Smart Horizontal Mode™ - absolute precise measurements
---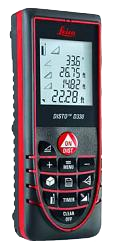 Click to enlarge
$329
w/ free shipping


With a measuring accuracy of ± 1/16 inch (± 1.0 mm), the Leica DISTO™ D330 offers high precision at the touch of a button. The large illuminated display shows the measurement results and supplementary information clearly and legibly.
Smart Horizontal Mode™

Inclination measurement (± 45°)

Illuminated 4-line display

Multifunctional end-piece

Robust with an IP54 rating

Power Range Technology™
Product Description
---
Smart Horizontal Mode™

Thanks to the combination of distance and tilt measurements you can determine the horizontal distance precisely and simply. If you take a measurement at an inclination of ± 45°, the Leica DISTO™ D330 always calculates the shortest distance. So you can measure quickly and easily, even over the top of objects and people.

Multiple functions

The Leica DISTO™ D330 can calculate rectangular and triangular areas, volumes, room dimensions and various types of Pythagoras functions. A time delay release and enough memory for up to 20 measurements round off the instrument's wide range of functions – a concept designed to make your work life easier.

Multifunctional end-piece

Aim the instrument straight at the target point, whether measuring out of corners, slots or from edges: with this endpiece you are prepared for all measuring situations. The instrument detects the endpiece automatically, which helps you avoid expensive measuring errors.

Power Range Technology™

The integrated Power Range Technology™ makes measuring long distances very easy. You can measure up to 260 feet (80 m) without a target plate and even up 325 feet (100 m) with a target plate, without having to take single step.

Brilliant and clearly arranged display

The results are displayed on the large (2"), clearly arranged and high contrast display. At the touch of a button, the display makes supplementary information available about the measurements, e.g. indirect height, room dimensions, angle information or room angles.
Product Information
---

Holster

Hand loop

2 AAA batteries

CD with manual / safety instructions

Producer certificate M in accordance with DIN 55350-18-4.2.2

Quickstart guide
Features
Your advantages
Measuring range 2.0 inch to 325 feet (0.05 to 100 m)
Typ. accuracy ± 1/16 inch (± 1.0 mm)
Precise, quick and reliable measurements
Smart Horizontal Mode ™
Determine precise horizontal distances at the press of a key
Tilt sensor
Measure angles up to ± 45° at the touch of a button
Flip-out end-piece
with automatic detection

Reliable, trouble-free and error-free measurement from edges
or out of corners

Pythagoras functions
Indirect height and width measurements in inaccessible positions
Room dimensions
Values such as total wall length, wall and ceiling area are available at the touch of a button
Stake out function
Stake out equal or two different recurring distances
Triangle function
Determine the area of a many-cornered room efficiently